Ubud Monkey Forest: Largest Monkey Forest with the Most Monkey Population in Bali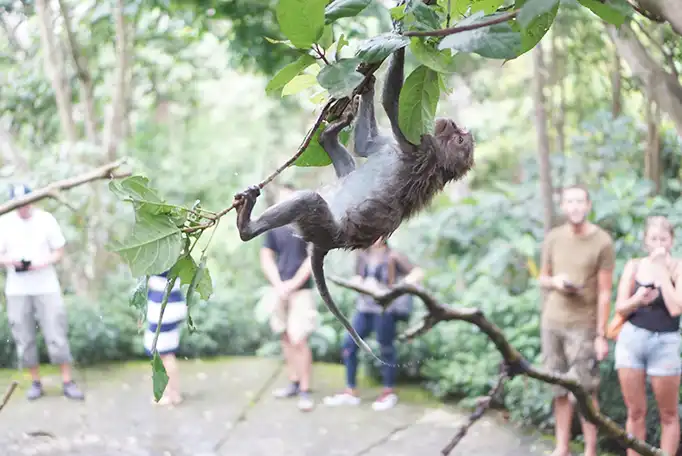 Ubud Monkey Forest: Largest Monkey Forest with the Most Monkey Population in Bali
Monkey Forest Ubud can be said as the most famous monkey forest in Bali. It is because Ubud Monkey Forest has the largest area of forest and has the biggest amount of monkeys among the other monkey forests. It is also located in central of Ubud that close to another recreation area around Ubud. You can access Monkey Forest Ubud easily, especially because it has been newly renovated in 2018 and has better facilities than the other monkey forests.

Ubud Monkey Forest is located in central of Ubud, at Monkey Forest Street, Padangtegal Village. Even though there are several monkey forests in Bali, like Sangeh Monkey Forest and Alas Kedaton Monkey Forest, monkey forest in Ubud or officially named as Mandala Wisata Wenara Wana is the most well-known monkey forest in Bali. Monkey Forest in Ubud is surrounded by many cafes, restaurants and art shops along in the Monkey Forest Street, so you can visit many places after you visit Monkey Forest Ubud. It is also not too far from Ubud Art Market and Ubud Castle. Simply, Monkey Forest Ubud is located in strategic area.

There are around more than 700 of long-tailed monkeys or Macaca fascicularis in Monkey Forest Ubud. The monkeys are grouped by their ages like adult male, young male, adult female, young female, juvenile which is aged between 2-3 years old, juvenile 2 which is aged between 1-2 years old, old infants 5-12 months old and infants. They are divided into about 6 groups depends on where the groups live, the temple group, new forest group, central point group, the east group, Michelin group, and cemetery group. With the total area of 12, 5 hectares, Monkey Forest Ubud is also divided into some area like 3 temples, the central points, and the cemetery. It also has a small river near the temple with crystal clear water.

The monkey forest in Ubud has been renovated in 2018, and now has better facilities. The parking lot is now much bigger that will make you easier to park your vehicles. It also has a lobby where you can buy your tickets or wait for your driver to pick you up. When you enter Monkey Forest Ubud, you will pass a mini cave with Balinese engraving on the right and left side. You can also buy some bananas or peanut to feed the monkeys. Do not worry because there are many local guides who will lead you to feed the monkey safely. If you are looking for a destination that makes you close to nature with safety, Monkey Forest is the answer for you and you definitely have to visit it.
Tour Package Recommendations for You
Here are some package options that may be associated with this destination.