A few days enjoying the beauty of Bali with Mr. Franco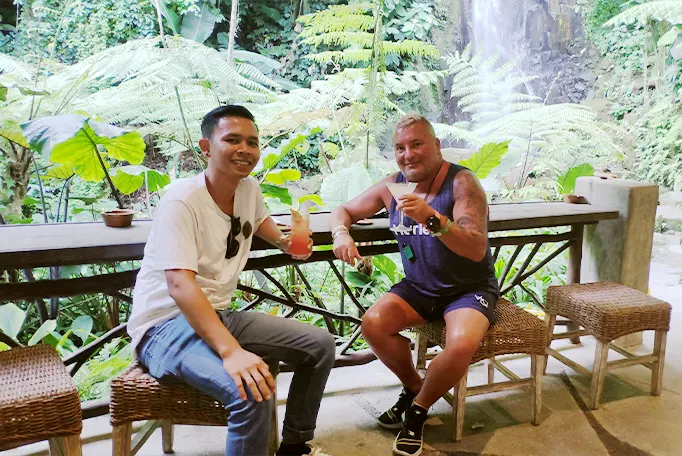 A few days enjoying the beauty of Bali with Mr. Franco
Memories of Bali tour this time with Mr Franco from Australia. He ordered several services while on vacation in Bali, first he ordered the Bali Airport Transfer service when arrived in Bali. We picked up Mr. Franco at I Gusti Ngurah Rai international airport by private car which then took him to where he was staying.
The next day, Mr. Franco again ordered a Bali Private Driver service to visit Ubud Art Village. He came to this place to see unique Balinese handicrafts. Not until here, a few days later Mr. Franco again invited us to enjoy the natural hot springs in Kintamani. Here we enjoy the beauty of Kintamani volcano, Lake Batur, and also natural hot springs.

Mr. Franco was happy to be in Ubud, the next day he again ordered a private car to travel in the Ubud area. First, we invited him to visit the Tegenungan waterfall. When we got there, we asked him to come downstairs. At first, he was hesitant because he had to go through 150 stairs to reach the river below the waterfall, but in the end we went down.

We took quite a lot of pictures at the Tegenungan waterfall, until we finally decided to head back up. Because he had to go through quite a number of stairs, Mr. Franco was quite tired and decided to take a break at one of the bars there. The photos in this story, we took here :)

A few days later, Mr. Franco ordered private car again, for dinner at Jimbaran. This is one of the suitable places for dinner because we can watch the sunset while eating our favorite food.

Thank you, Mr Franco, for trusting us to use the services we have. Hope to see you again later, see you in the next holiday!
Are you interested in our tour?
Here we recommend some packages that you might like.
If you haven't found what you want, don't hesitate to contact us.