Bali Quad Bike Adventure & Rafting with Mrs. Heylen and Mr. Guiot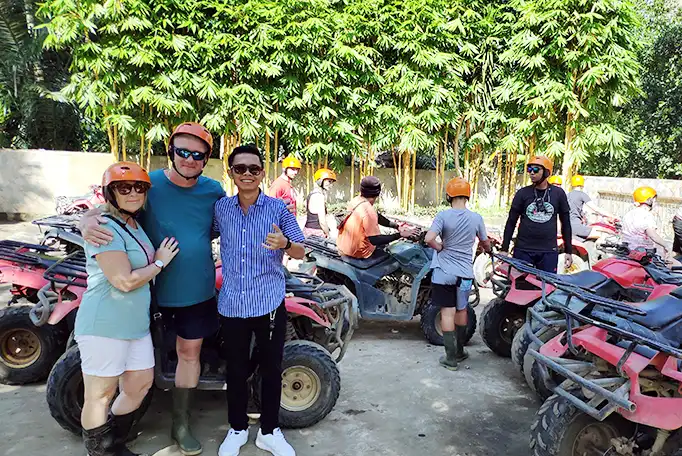 Bali Quad Bike Adventure & Rafting with Mrs. Heylen and Mr. Guiot
This is one of the memories of Bali that will show how interesting Bali is. This is the memory of an adventure trip with Mrs. Heylen and Mr. Guiot. They booked some interesting tour packages during their holiday in Bali, but this is one of them, Quad Bike Adventure and Rafting. As usual, I picked them up at 7.00 am at their lobby hotel. Then we went to Payangan village. It took one and a half hour to get there. During the way to get the first place, we were talking about many things while enjoying the trip.

After getting to the destination, the team of Quad Bike Ubud welcomed us nicely. They offered us a welcoming drink and gave insurance form to sign. Then the team guided Mrs. Heylen and Mr. Guiot to check the equipment before the activity started. There was also an instructor that help them with the bike and gave them important information. This adventure took approximately 2 hours. They drove through rice fields, bamboo garden, and muddy path. After this activity, they took a rest and had their lunch.

The next activity they did was Ayung River Rafting. They said they we afraid of doing this activity. It seemed a dangerous activity. After I explained to them, they looked interested and tried the activity. The rafting team welcomed us while giving them the insurance form to sign. Then the instructor gave them the equipment and they wore it. After registering and checking everything, they went to the location. It took only five minutes from the office. To reach the river, they walked down the stairs while viewing the rice fields. It didn't make them tired. Before the activity started, the instructor gave them a briefing. They were enjoying the activity much.

During the activity, there is a rest area showing a waterfall view. Here they could swing while enjoying the atmosphere of nature and also carved stones. Then they continued the activity. To get back to the office, they walked again to the place where the car was waiting for them. The office also provides bathrooms. They took a shower. After that, they ate some foods that we provided there. Finally, we went back to the hotel.

Thank you very much for choosing us as your tour organizer during your holiday in Bali. I do hope we will meet again in the future.
Are you interested in our tour?
Here we recommend some packages that you might like.
If you haven't found what you want, don't hesitate to contact us.